The Holistic Methodology for Sustainable Water Projects
It is well understood that lack of sustainability is an affliction, which must be overcome. Statistics show that at any given moment, between 30-60 percent of water supply systems and projects, be they boreholes, hand pumps or other techniques across rural SSA, are defective or fail after completion and are not sustainable over time (Abebe & Deneke, 2008; Brikké & Bredero, 2003; Koehler, 2014)[1], sometimes disintegrating within half a year (Amadei, 2012)[2]. Thus, clean water is denied to the population. This lack of sustainability reflects the waste and ultimate lack of impact of hundreds of millions of dollars per year spent by international agencies, governments, donors and private investment on water projects. For every million dollars spent on water, up to 600,000 dollars will need to be spent again, thus the problem intensifies. This is especially alarming since many countries in SSA are considered economic scarce.
For this challenge WaterWays-WWS has created "The holistic methodology for sustainable water projects" as a solution to tackle sustainability challenges in rural areas. WWS service will use, convey and transfer the knowledge of the holistic methodology to project managers and local teams. The holistic methodology acknowledges the complexity of water projects' sustainability and has developed a methodology taking into account all variables of the project consisting of six pillars of sustainability which work in the macro, meso and micro spheres of global inputs, governments, local organizations and partners and finally the community.
The six pillars of the holistic methodology, with their sphere affiliation: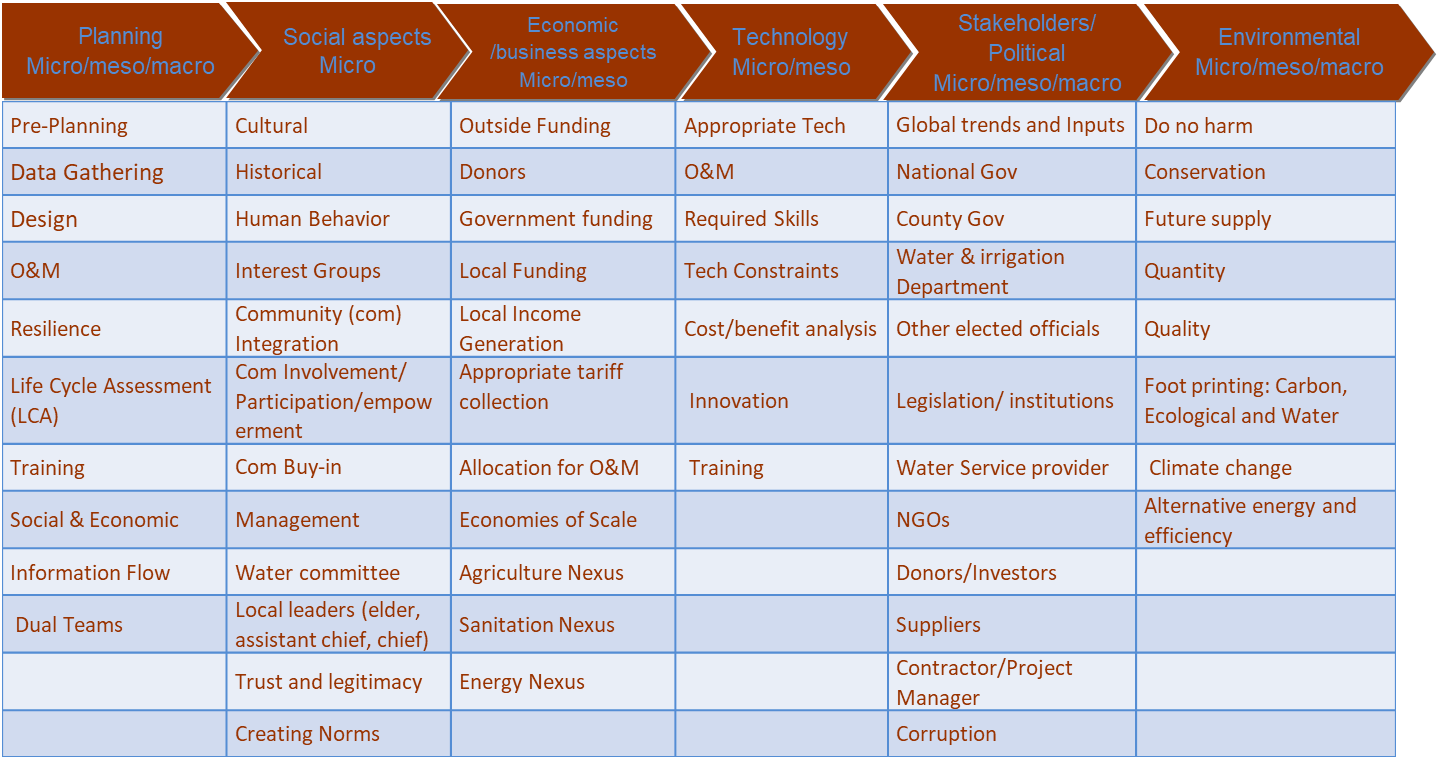 Planning considerations (Micro, Meso & Macro):

Sufficient pre-project planning;

long term planning, for resilience, social and economic aspects and training for self-sufficiency;

Constant & proper integration between technology and the community;

Life cycle cost and considerations;

Dual members teams – local personal and external experts.

Social considerations (Micro):

Taking into consideration cultural and historical issues;

Taking into consideration Human behavior issues, trust and legitimization and interest groups;

Involving the local community as a full partner in the project from the conception stage of the project; Community Buy-in; Empowering the community to instigate local responsiveness, participation and general buy-in;

Incorporating local "wisdom of the masses" tools; and creating norms;

Incorporating management, water committees, empowering local leaders.

Business Considerations (Micro & Meso):

Appropriate business models enhancing community income;

General Income generation derived from agro-activities and industrial deployment;

Agriculture/food, water/sanitation, energy nexus

Appropriate tariff collection allocated to management, maintenance, training, capacity building.

Technology considerations (Micro & Meso):

Use of appropriate technology; considering and understanding all possibilities and alternatives;

Focusing on simple, decentralized, low maintenance and low energy technologies;

Innovation;

O&M requirement, technical training and required skills.

Stakeholders considerations (Micro, Meso & Macro):

Global trends and inputs;

Community – water committees and local leaders;

Government – national and local;

Donors, Private investors, NGOs;

Suppliers and contractors;

Corruption on all levels.

Environmental considerations (Micro, Meso & Macro):

Do no Harm;

Take into account quantity and quality;

Addressing full scope of environmental issues, in a consistent format and carbon and ecological footprints;

Alternative energy; Energy efficiency; Soil pollution and rehabilitation; Water pollution;

Correct use of chemicals, fertilizer and pesticides and introduce alternatives where relevant.
At the end of the project, the gained knowledge will be written (and transferred) into a sustainability protocol. In the protocol each pillar will be presented as a model with "To-Do" steps that can be used by all stakeholders in the project, from the community level, up to the governmental level, for long term sustainability and project longevity.
WWS scientific, technological and business capabilities:
a. Hydrogeology, Development of water resources;
b. Drinking water and waste-water;
c. Preservation of water and maximizing its usage;
d. Prevention of water and soil pollution;
e. Water purification and treatment;
f. Sewage treatment and countering its effect on quality of fresh water, soil, quality of sea water and beaches;
g. Conservation & Reuse, effective water use;
h. Sustainable development;
i. Water reclamation;
j. Expertise in monitoring in-situ, online, real time with experience in harsh, remote areas;
k. Green procurement;
l. Using proven, environmental technologies and know-how, adjusting them to local needs;
m. Using cost effective and inexpensive technologies to obtain environmental goals;
n. Writing of local governmental environment protocols and regulations;
o. Training regional & local teams for carrying out independently ongoing and long term monitoring and maintenance;
p. Maintaining a cohesive relationship between health, society and environmental processes, public sharing and transparency
q. Writing legal expert opinion for the courts, on environmental and water issues.
The WaterWays™ team has an array of marketing and business development expertise in China, and Europe and a broad network in Africa, India and North America;
---
[1] Abebe, H., & Deneke, I. (2008). The sustainability of water supply schemes: a case study in Alaba Special woreda (RiPPLE, Vol. 5). Addis Ababa, Ethiopia: RiPPLE Ethiopia; Brikké, F., & Bredero, M. (2003). Linking technology choice with operation and maintenance in the context of community water supply and sanitation. Geneva, Switzerland: WHO and IRC Water and Sanitation Centre; Koehler, J. (2014). Devolution in the Kenyan water sector–Rural water user preferences to institutional transformations in water services and water resources management. Paper presented at the Workshop on Devolution and Local Development in Kenya. Kenya: ICLD.
[2] Founder of EWB, Professor Bernard Amadei, University of Colorado, USA – EWB seminar Tel-Aviv, 3 June
http://www.youtube.com/watch?v=o-hE_KgLhTo